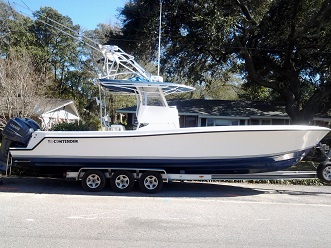 CHARTER PRICING
For Packages 1, 2 and 3 only
All rates for the 25ft Bay-boat are for up to 2 anglers.
There is a $75 charge each for additional angler up to 6 anglers
All rates on 35ft Center-console are for up to 4 anglers.
There is a $100 charge each for additional angler up to 6 anglers

Charter Package #1: Inshore on 25ft Bay-boat
1/2 day: 4 hours - $450.00
3/4 day: 6 hours - $650.00
Full day: 8 hours - $850.00

Charter Package #2: Inshore & Nearshore Reef
(up to 10 miles offshore) on 35ft Contender
1/2 day: 4 hours - $750.00
3/4 day: 6 hours - $875.00
Full day: 8 hours - $1,000.00

Charter Package #3: Offshore (20-50 miles offshore)
on 35ft Contender
3/4 day : 6 hours - $1,100.00
Full day: 8 hours - $1,400.00
Full day offshore/gulfstream: 10-12 hours - $1,700.00

Shark Fishing (May through September): on 35ft Contender
2 hours - $375 for up to 6 anglers

Crabbing, Shark Tooth Hunting, Dolphin and Bird Watching,
Shell Collecting and Backwater Tours on 25ft Bay-boat
2 hours - $275
Additional hours - $100/hour

Eco tours, sight-seeing, harbor cruises (up to 6 people):
Evenings May through August: $275 for 2 hours.
Additional hours-$100/hour
Gift Certificates Available

Credit Card Transactions
There will be a 3% surcharge for all Credit Card Transactions.
What's Included?
• All Licenses
• All fishing gear "if needed"

What IS NOT included?
Customers are encouraged to bring their own food , drinks, hats, sunglasses, and sunscreen. Don't forget your camera!

Gratuity
15-20% Gratuity is considered standard after a good trip on the water.